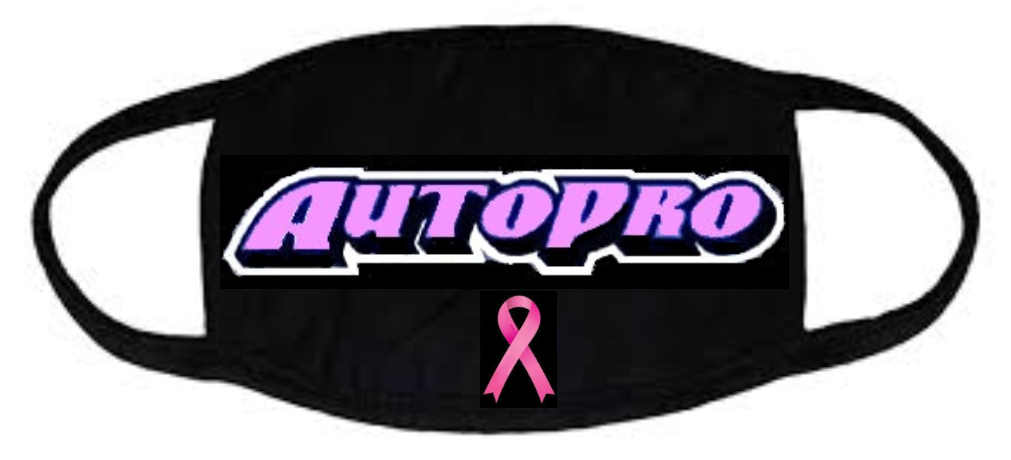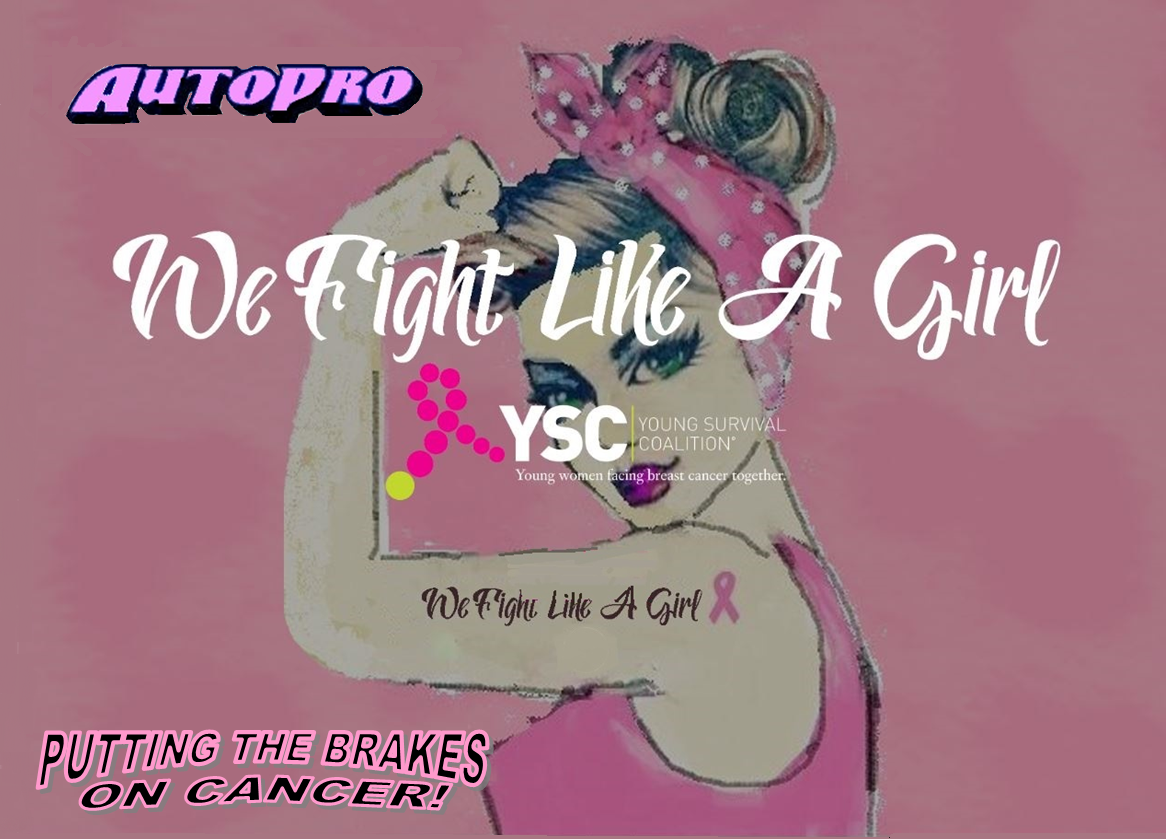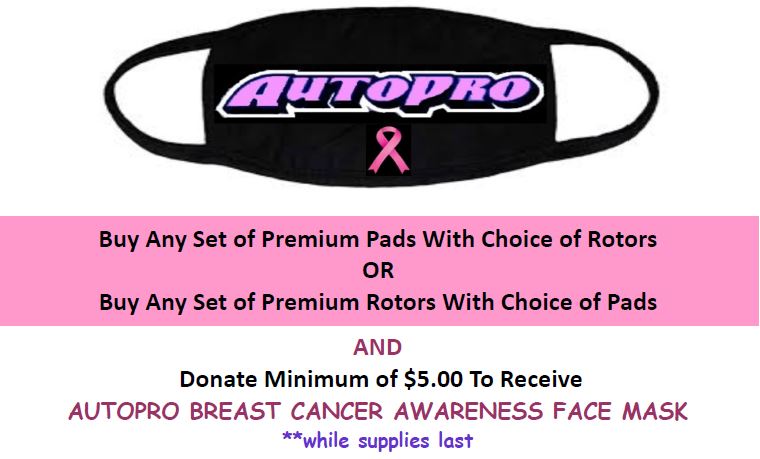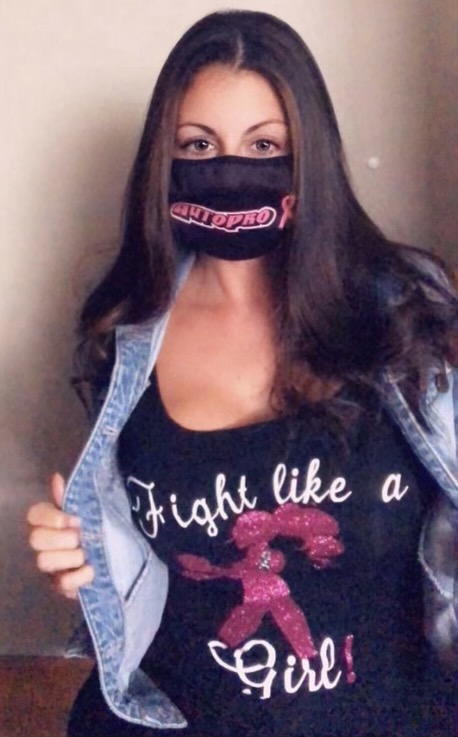 Over 40,000 breast cancer deaths are expected this coming year. This October, National Breast Cancer Awareness month, AutoPro would like to bring awareness to this horrible disease which threatens our loved ones. In addition, AutoPro is collecting donations to Young Survival Coalition. AutoPro will match every donation that you make while placing qualifying brake order.  Your $5.00 gift will equal a $10 donation. Minimum donation to receive an AutoPro, "Putting the Brakes On Cancer" cap is Five Dollars but we encourage you to donate more if you feel comfortable. www.wefightlikeagirl.com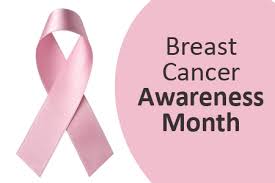 Congratulations To All of You Who Participated in AutoPro's,
"Putting the Brakes On Cancer" Fundraiser In 2019
With your help, we were able to raise $750.00 for the Young Survival Coalition.
We Hope You Wear Those Masks Proudly!
We Fight Like A Girl Rockland County Times
BY MAURA MONAGHAN
Carla Curran was only 22-years-old when she had a lumpectomy that would be the first in a long series of doctor's appointments, mammograms and ultrasounds to prevent breast cancer. After her mother's triumphant battle with the disease, Carla knew she may have to face it herself one day, but she never thought it would be at such a young age.  After years of endless screenings, appointments and consultations, Carla decided to get tested for the BRCA gene. The result was positive, indicating a mutation in one of the breast cancer genes, BRCA1 or BRCA2, which carries a much higher risk of developing the disease.
Finally, in the summer of 2009, at age 26, Carla decided to be proactive. After a long talk with her doctor, she scheduled a prophylactic bilateral mastectomy with reconstruction.
"There were so many 'what ifs' that ran through my head," she said. "The biggest one, though, was 'what if I get cancer knowing the information that I know?' How could I do that to my family? I had this knowledge and I wasn't going to just file it away."
While processing all of this information and making tough decisions, Carla had the support of her sister, Cristina, who was continually floored by her determination.
"I always knew she was strong, but that day showed me just how strong she really was. I felt shattered because we have witnessed firsthand what cancer has done to our family, but Carla changed that."
Cristina also knew how cancer had affected her best friend, Samantha Neiderman, and her family. With lots of research and personal experience between them, Carla, Cristina, Samantha and their friends Mary, Tricia, Danielle and Shelly have come together over the years to build up a local fundraiser for the Young Survival Coalition (YSC).
The YSC is an international organization "dedicated to the critical issues unique to young women diagnosed with breast cancer," and offers resources, connections and outreach to empower those women. Carla decided to host a fundraiser for the YSC after everything she had been through in her early 20s. In the first year, she approached it with a "why not" attitude, advertising through a Facebook event and some flyers. The turnout that first October at Halligan's in Stony Point was inspiring, and set the tone for the years to come. "I think we talked about it for a full week, like, 'Can you believe what happened?!'" says Samantha.
Over the past few years, this tight-knit group of friends from North Rockland have come together to create an event that, in 2017, raised between eight and nine thousand dollars for the cause. They started emailing everyone they could to get the word out, and attendance is now usually around 250 people. The friends are trying to do "a little more every year," and it's working. "The generosity is outrageous. We don't always send the money in right away, because a week later we're still getting donations. Even if people don't attend, they donate, which is pretty amazing."
The fundraiser's results have been an inspiration, not just for raising breast cancer awareness in general, but personally as well. The event is a great way of honoring and remembering women like Samantha's mother, Fran, whose vibrant personality was loved by all—"When she walked into a room, the room would just light up," says Samantha—and who battled hard against cancer as well.
"I'm so blessed to have a sisterhood of friends to share my life with," says Samantha, and "even though we lost the ones we love most, we know they're watching us and are so proud of this yearly tradition."
All proceeds from the raffle drawing go to the Young Survival Coalition. Proceeds from the 50/50 go toward North Rockland High School's Helene Wilner Scholarship, in memory of Ms. Wilner, a dear friend of both the Curran family and the North Rockland community. Her family jokingly called her the "Mayor of North Rockland" because she seemed to know, and be loved by, everyone.
Carla says that Mike Smith, the former owner of Halligan's, has also been an "amazing support" in their efforts, and last year the event had to be held outside because of the huge crowd of attendees. Carla, Samantha, Cristina, and all the women of We Fight Like a Girl have been thrilled with the event's success.
"We're very fortunate to live in a community where everybody cares, which is pretty amazing."