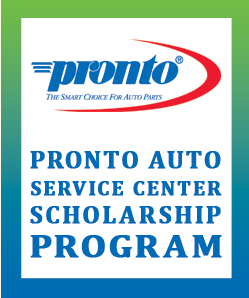 Pronto Auto Service Center Scholarship
National Pronto Association is pleased to offer twelve $2,500 annual scholarships to the sons, daughters, or employees of their Pronto Auto Service program.
These scholarships are funded by National Pronto and its warehouse distributor members. They are available to any active Pronto Auto Service Center currently purchasing from a Pronto member.
Students who are attending any 2 or 4 year accredited college, any ASE/NATEF certified post-secondary automotive/ heavy duty/ collision technician training program or any licensed and accredited vocational school are eligible for these awards. Students who are graduating from high school this year and heading to any of those post-secondary programs also qualify.  Students must be pursuing an automotive career in order to qualify for this scholarship.
ALL THE BRANDS YOU DEMAND