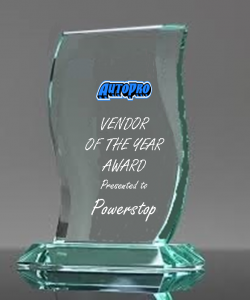 CONGRATULATIONS TO POWERSTOP!
AutoPro Would Like to Announce That Our 2018 Vendor of the Year Award, in Recognition of Excellence in Sales, Product Innovation, Performance and Service, Goes to Powerstop.
All of our innovative manufacturers painstakingly strive for perfection. This time Powerstop has come close; boasting a less than 1% defect rate.
If you haven't tried our Powertop Z17 Evolution or Powerstop Z36 Extreme Brake Pads, we suggest you do so. Find out what others have been enjoying already;
a

Noise Free, Dust Free, Ceramic Braking Solution.